Don't Miss: Walkers Point, Wedding Cake House, Sea Shore Trolley Museum, The Nott House, The Brick Store Museum, Dock Square, Parsons Way, Spouting Rock, Mothers Beach, Kennebunk Beach, Colony Beach, Goose Rocks Beach, Goat Island Lighthouse, Cape Porpoise, the Clock Tower...
207-468-5959
waterfront@82ocean.com
Southern Maine Area Sightseeing
Southern Maine Area Sight Seeing

Vacationers come to the Kennebunks in all seasons because there is so much to see. Walking the historic village of Kennebunkport you witness historic sea captain's homes and the working waterfront where ships were launched, and lobstermen have hauled their catch for centuries. You can take an architectural tour to learn more about the seaside mansions and colonial homes, or drive along the coast to see roadside clamshacks, summer cottages and lighthouse like Goat Island Light in Cape Porpoise.
A must "sea" along Ocean Avenue is Blowing Cave and Spouting Rock (pictured at bottom of page), part of the seaside walk called Parsons Way. This scenic seaside path also takes you by President Bush's so called "summer White House," the family compound of Barbara and George Bush on spectacular Walkers Point.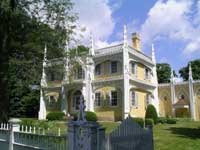 Summer Street is famous for its magnificent homes that are so historic and beautifully landscaped, some are rumored to be haunted. The Wedding Cake House is one of the most photographed homes in Maine, so you must see this architecturally unique home in Kennebunk. The Brick Store Museum and The Nott House, part of the Kennebunkport Historical Society, offer guided tours of these famous seaside towns and the historic homes.
Nature lovers should visit Laudholm Farm and Rachel Carson Wildlife Preserve, to view the saltwater marsh that provides a habitat for birds and estuary wildlife.
The Seashore Trolley Museum is a fun place for families and train buffs, you can ride on restored rail cars into the Maine countryside, train trips are narrated by conductors to add to the authenticity.
Scenic Flights - Up to 3 people. Custom Itinerary. Southern Maine Aviation. 199 Airport Road, Sanford,
ME 04073 $175 per hour.
Guided Tours of the Kennebunks - Intown Trolley - in season
Walking Tours of Kennebunkport - 1 hour Historic walking tours from the Nott House 967-2513 or 2751
White Columns - Greek Revival House 6/10-10/7, 967-2751
Rockin' Horse Stables - Horse Drawn Sleigh/Carriage/Wagon Rides! 245 Arundel Road, Kennebunkport, 967-4288.
Seashore Trolley Museum - Log Cabin Road - Kennebunkport, 967-2800
Wells National Estuarine Reserve at Laudholm Farm - 1600 scenic acres of research reserve including a 19th century saltwater farm, Rachel Carson Wildlife Refuge area, Laudholm Farm Visitors Center, exhibits, and seven miles of spectacular marsh walkways and trails along marshes, fields, and wetlands. Open year round. 342 Laudholm Farm Road, Wells. 646-1555, 646-4521.

Rachel Carson Wildlife Preserve - Open sunrise to sunset for bird watching and self-guided tours. Rt 9 Kennebunk/Wells Town line. 646-1555.
Scenic Walk - Marginal Way - Ogunquit one mile path along coast. Ends in Perkins Cove
Ride the Ogunquit Trolley
Nubble Light - Soiher Park, York
Goat Island Lighthouse - Built in 1834. Viewed from Cape Porpoise Pier.
Scarborough Marsh Nature Center - Maine's largest salt marsh is best explored by canoe. Guided and self guided canoe tours. Abundant shorebird sightings. Nature center offers slide shows, exhibits. Rt. 9, Scarborough. 883-5100.
Bike Rentals - Kennebunkport Bicycle Co. - 34 Arundel Road, Kennebunkport Maine. 207-385-4382

Airplane Rides - Sanford Airport - 207-324-0905
American Helicopter - Photo Flights & Scenic Rides, Sanford Airport, (800) 261-2022
Hot Air Balloon Rides - 17 Freeman St., Portland, ME Phone: 207-772-4730, 800-952-2076
Kennebunkport Historical Society - 135 North St, Kennebunkport, 207-967-2751
White Columns - Greek Revival House – Open Mid June to Mid-October, Dock Square, Kennebunkport, 207-967-2513 or 967-2751
House │ Rates │ Specials │ Photos │ Kennebunkport │ Contact Us