Don't Miss: Walkers Point, Wedding Cake House, Sea Shore Trolley Museum, The Nott House, The Brick Store Museum, Dock Square, Parsons Way, Spouting Rock, Mothers Beach, Kennebunk Beach, Colony Beach, Goose Rocks Beach, Goat Island Lighthouse, Cape Porpoise, the Clock Tower...
207-468-5959
waterfront@82ocean.com
Kennebunkport Maine
Kennebunkport Maine Lighthouses
Maine is famous for its lighthouses, and Kennebunkport and Cape Porpoise are no exception. The Goat
Island Light is a remarkable lighthouse on an island, viewable from the Cape Porpoise Pier.
From the Kennebunks, you can tour more Maine lighthouse by driving the scenic coastline, starting with the most photographed lighthouse of all - Nubble Light in York. From this vantage point you can also see legendary Boone Island Light out at sea.
In Portland, the first lighthouse commissioned by President George Washington is located in Fort William Park. Portland Headlight is Maine's oldest lighthouse, with a fantastic view of Casco Bay. While on your lighthouse tour, you must also visit Two Light State Park in Cape Elizabeth, there is a wonderful lobster shack here for seaside lunch too.
Goat Island Lighthouse
Built in 1834. Best viewed from Cape Porpoise Pier. Get on Route 9 into Cape Porpoise, where Route 9 makes a 90-degree left hand turn, go straight. Drive 1/2 mile to end/Pier and park. Technically - this is the only lighthouse actually in the Kennebunks. 10 minute drive
Other nearby Southern ME lighthouses...
Wood Island Lighthouse
Get on Route 9 thru Cape Porpoise and past Goose Rocks Beach. Take a right at traffic light (Pool Road/Route 208). Follow Route 208 to end. Take left on Route 208 thru Biddeford Pool and lighthouse is on right. 20 minutes
Cape Elizabeth Light/Two Lights State Park
Two lighthouses are perched atop the rocky shoreline. Off Rt. 77 in Cape Elizabeth. Directions: Take Route 1N to into Scarbourgh. Take a right onto Route 207 (traffic light at Oak Hill). Take Route 207 (Black Point Road). Follow almost to the end and take a left onto Route 77. Follow Route 77 to Two Lights road on right. 30 to 40 minutes.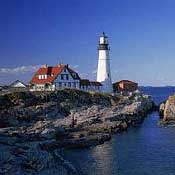 Portland Headlight & Museum
Maine's oldest lighthouse. Commissioned by George Washington in 1791. Adjacent to Fort Williams Park. Large grounds with picnic facilities and museum on the premises. 1000 Shore Rd. (off Rt. 77) Cape Elizabeth. 799-2661. Directions – Option One: Follow directions to Cape Elizabeth Light continuing beyond Two Lights Road on route 77 to Shore Road/Portland Headlight. Option Two: Take I-95N to I-295N to Port/Waterfront Exit and stay to left. Take Danforth Street thru 3-4 traffic lights. Take right on State Street and cross over Casco Bay bridge onto Broadway Street. Take right at second traffic light (Cottage Road) to Shore Road. Headlight is on left. On a clear day, you can see six area lights. 40 minutes.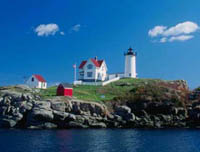 Nubble Lighthouse
York, Maine. The Nubble Lighthouse is located on a peninsula between Short and Long Sands Beachs in York Maine. This beautiful landmark is an active light and is located on a small rocky island at the end of the point. This is one of the most scenic and photographed lighthouses in the world. The Nubble is about a half hour south of Kennebunkport. 35 minutes
Boon Island Lighthouse
York Harbor, ME. – Boon Island Light is six miles offshore and visible in clear weather from Harbor Beach. Erected in 1811 on a barren rock island, the 132 foot lighthouse operates today, as in the past, as a continual beacon to sailors. It can be seen up to 21 miles at sea.

A story of a happening on this island is told in the novel Boon Island by Kenneth Roberts, 1956. Fact, and legend perhaps, has it that in December 1710, the Galley Nottingham wrecked on the island. Twelve of the crew of fourteen survived the wreck. After 20 days the ships carpenter died, his bones were stripped of their "beef" and the fat from the kidney was used to soothe frostbitten feet. After 24 days, a passing vessel discovered the shipwrecked survivors and brought them to shore.
House │ Rates │ Specials │ Photos │ Kennebunkport │ Contact Us