Don't Miss: Walkers Point, Wedding Cake House, Sea Shore Trolley Museum, The Nott House, The Brick Store Museum, Dock Square, Parsons Way, Spouting Rock, Mothers Beach, Kennebunk Beach, Colony Beach, Goose Rocks Beach, Goat Island Lighthouse, Cape Porpoise, the Clock Tower...
207-468-5959
waterfront@82ocean.com
Kennebunkport Maine - Family Fun
Amusements Parks and Family Fun in the Kennebunkport Area...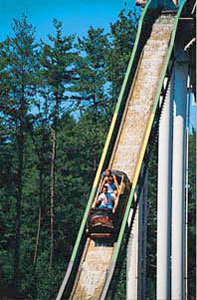 Families find tons of fun in the Kennebunkport Area. Besides a day at the beach, there are amusement parks just a short drive away.
If you like Ferris Wheels, carousels, arcades and rides – then Palace Playland and Funtown Splashtown will make your vacation as wet and wild as you like.
You can visit wild animals at the Zoo (York Wild Kingdom), or ride horses at a nearby stable. Mini golf is a family favorite during Maine's summer and fall season, or if you prefer a par-3 course – Hillcrest Golf is right in town Kennebunk.
Seashore Trolley Museum – Largest collection of trolley cars in the world. Countryside rides on historic rides. Log Cabin Road - Kennebunkport, 967-2800
Guided Tours of the Kennebunks - Intown Trolley - Board at the Nonantum or in Dock Square.
White Columns - Greek Revival House – Open Mid June to Mid-October, Dock Square, Kennebunkport, 967-2751
Rockin' Horse Stables - Horse Drawn Sleigh/Carriage/Wagon Rides! 245 Arundel Road, Kennebunkport, 967-4288.
Maine Indoor Karting - High performance karting course. State of the art track, 1,200 feet long, 25 feet wide, nine corner design. An adrenaline charged experience. Scarborough, ME 885-0058.
Funtown/Splashtown USA - Family amusement and waterpark. Home of Excalibur, Maine's only wooden roller coaster ranked one of the top ten in the world. Voted one of the cleanest parks in America and offers many rides, slides, pools, giftshops, games, arcades and eating facilities. Open weekends May and Sept. Daily starting early June. Free parking. Unlimited ride pass, slide pass or combination pass, group rates. Route 1, Saco, 284-5139.
Palace Playland - New England's only beachfront amusement park. Giant arcade, beautiful carousel, Kiddieland. Gondola Ferris Wheel and Galaxi Coaster. Open Memorial Day to Labor Day. Fireworks every Thursday night by the Pier, Old Orchard Beach. Old Orchard Beach. 934-2001
York's Wild Kingdom - Zoo and Theme Park, RT 1 York, 363-3883
Hillcrest Golf - Driving Range and Mini Par 3 Pitch & Putt just 5 minutes from 82 Ocean. - 71 Western Ave. Kennebunk, 967-4661
Miniature Golf Courses...
Wonder Mountain Golf Course - RT 1 Wells, 646-9655
Wells Beach Mini-Golf - RT 1, Wells, 646-757
Sea Vu Mini-Golf - Post Road, Wells, 646-7732
Schooners Mini-Golf - 58 Ocean Park Road, Saco, 284-6174
Pirates Island- Old Orchard Beach, 934-5086
Shopping | Beaches | Ocean Recreation | Family Fun and Amusement Parks | Golf | Spas | Sightseeing | Summer Theater | Museums | Lighthouses | Fitness Centers | Winter | Churches & Medical

House │ Rates │ Specials │ Photos │ Kennebunkport │ Contact Us